HOW TO BUILD A BIRD BOX
OK, your lovely girlfriend or beautiful wife wants you to build a bird box ....(you think:"Oh God, no please") .... but yoiu say: ..."OK, noooo problem My Dear" .... (stay calm please .... & smile)
Check out this super simple but
VERY

high class design....& the birds love it too (give them a day or so to get used to it, & put some paper towels or soft grass inside) .... "WOW LUXURY" say the birds (& the box looks great too).... The photos below show the first time....

_________________________________
PARROT BUSINESS 2009
" Birds Meet Box "


SMALL BIRD BOX .... OK, YOU WANT TO MOVE IN?

... First you got to get past The Bouncer, that's "Bad Captain Hook" (& he is sooo bad).... ( The left pivoting latch is down & the front panel slide open).

___________________



HOUSE HUNTING BIRDS

MEET THE SMALL & MEDIUM BOXES (the first time) .... Lucky [left] single girl parrot with gammy leg) & Lollipop [right] single boy parrot, he is bossy & a romeo ) .

.. Oh Good!... Bad Captain Hook went to the bathroom).
___________________________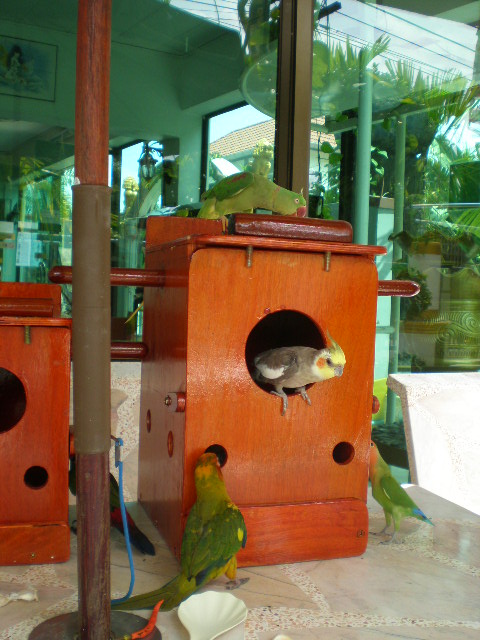 SUDDENLY THERE IS A SERIOUS PARROT COMPETITION FOR THIS BIRD BOX
(This is the large box) ... BUT 1.) Bad Captain Hook is back from the bathroom & 2.) That's "July" who has already moved in (I told you birds (& parrots) like these boxes).
___________________
BIRD BOXES (high class but simple)

CONSTRUCTION DIMENSIONS

SMALL

MEDIUM

LARGE

Height of back panel (fixes to wall)

10"

15"

20"

Width of back panel

6"

8"

10"

Overall depth of box

6"

9"

12"

Diaiameter of entry hole

2"

3"

4"

Diameter of air & view holes

12mm

15mm

25mm

Sides & bottom plywood thickness

12mm

15mm
BIRD BOX DESIGNS .... These are high class boxes (Small, medium & large sizes) .... The constrution dimensions & photos make them quite easy to build in your home workshop or garage.
_________________________________
PARROT BUSINESS 2010 #1
(PARROT SCANDAL & MALICIOUS GOSSIP AT BIG GYM CITY EXOTIC SNACK BAR)
THIS WAS CAPTAIN HOOK ... ("BAD & Mean Captain Hook") was the meanest, bad tempered parrot you ever did meet ... (& he could bite hard too)... BUT, we forgive him everything , because he very sadly got attacked by a BIG dog when he (Captain Hook) was sat in his favourite "Ton Kawy" tree snoozing ... (We do actually miss him, terribly)
_____________________________________
PARROT BUSINESS 2010 #2
THIS IS CAPTAIN HOOKS SUCESSOR named ...
LIEUTENANT LOLLIPOP ... & he is THE most philadering woman chasing two timing parrot you will EVER have the misfortune to meet .... BUT, we must admit that he is smart (bilingual [English & Thai]) & sorry to say that he is brave too .... because when he was just a baby he would stand up to Bad Captain Hook & go "Toe to Toe"(parrot boxing) with the former champion .... Just look at that "Beady Eye" ... & sorry we had to clip his wings because he flew up tall trees to "Chat up" wild ladies.
PARROT DRAMA ... OK, Lieutenant Lollipop is now moving in (checking out the chicks) ... Just watch the style of this outragious romeo ... & I am warning you that you had better cover the children's eyes ... Here you have trilingual (Thai, English & French speaking) university student Tinkerbelle (green t-shirt & not yet 18), & disabled Lucky (yellow dress, age 21 & has a "gammy" leg) ... BUT that does NOT mean anything to L. Lollipop, they are both fair game to this swaggering dandy.
LOLLIPOP MAKES HIS MOVE & MAKES A QUICK PASS AT TINKERBELLE ... but Tinkerbelle is way too smart (note Tinkerbelle's raised right foot (parrot speed) as she makes a hasty exit stage left ... "Hmmm pity"says Lollipop " I fancied that shapely chick, next time maybe!"
OK, OK says LOLLIPOP, NO PLOBLEM ... & goes for his 2nd choice (that's DISABLED Lucky) & gives her a quick peck on the cheek ... (cheeky bas****) ... & gets away with it too because Lucky can't run away (note the look in Tinkerbelle's eye ... I hope she is not jealous!)
OH MY GOD LOLLIPOP, YOU DISGUSTING PHILANDERING PARROT! ... He is doing it to DISABLED Lucky who the rotten bas**** has got pinned to the stone table while innocent "sweet 16" Tinkerbelle looks on in horror from a safe distance (poor girl) .,.. Quick, get the kids out of the room ... This is X XX rated "PP" (Parrot Porn)
___________________
PARROT BUSINESS 2010 #3
TWO SILLY PARROTS HAVING FUN (photo#1) ....This is Tinkerbelle worried about Lollipop being sick .... ?
TWO SILLY PARROTS HAVING FUN (photo #2) .... but Lollipop is not sick (surprise) .... OK, so what is the ploblem???
TWO SILLY PARROTS HAVING FUN (photo#3) .... The true situation is that here we have an example of complete trust! (now that is very valuable in ANY species)... The hand belongs to June (General Manager of Big Gym City) ,& these two (who can put a hole in your finger if they want), trust June completely & loll about like drunken sailors (quite a rare situation).
___________________