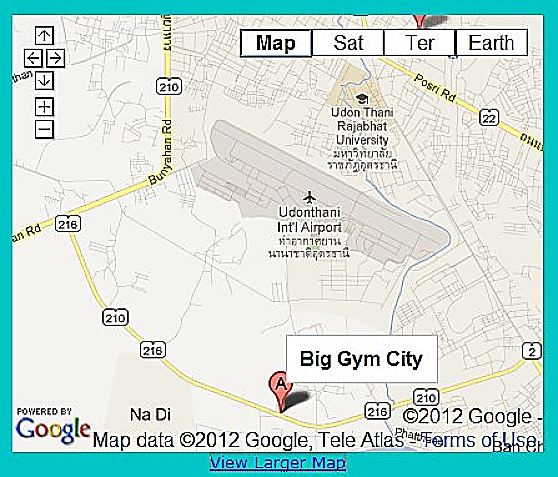 Big Gym City is SERIOUSLY well located (here shown on Google Map)
_____________________________________
Big Gym City, Udon Thani, Thailand Google Location Map 2010
______________________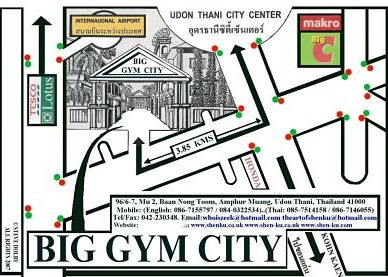 Big Gym City, Udon Thani, Thailand Location Map for 2006
__________________________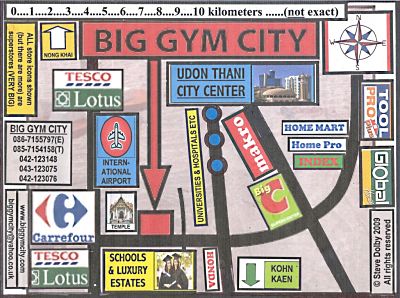 Big Gym City, Udon Thani, Thailand 2010 Location Map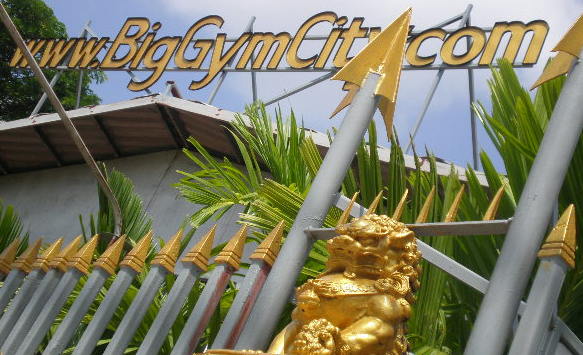 THAI GOVERNMENT licensed sign, which is about 10m wide & 10m above the Udon Thani City Ring Road) .... IT IS VERY EASY TO SEE (on your left side traveling east from Carrefour/Tesco #2 .... Or on your right side traveling west from Big C/ Makro on the Udon Thani City Ring Road .... Big Gym City is about 2 kilometers (as the crow flies) south of the Udon Thani International Airport.
_________________________

BIG GYM CITY WORKERS TAKE A BREAK (named Blue, Red & Yellow [they are brothers & sisters]) .... They are actually waiting for their food [from June]....but they do not fly away!......Their job is "Fighter Pilots" (Ah! ... Don't laugh, because they can, & do catch [& eat ] mosquitos & other bugs IN FLIGHT! ) .... & thgey are absolutely as cute as a button also.
_______________________________

CAPTAIN HOOK ( "BAD & Mean Captain Hook") was the meanest, most bad tempered parrot you ever did meet ... (& he could bite hard too)... BUT, we forgive him everything , because he very sadly got attacked by a BIG dog when he ( Captain Hook) was sat in his favourite "Ton Kawy" tree snoozing ... (We do actually miss him, terribly).